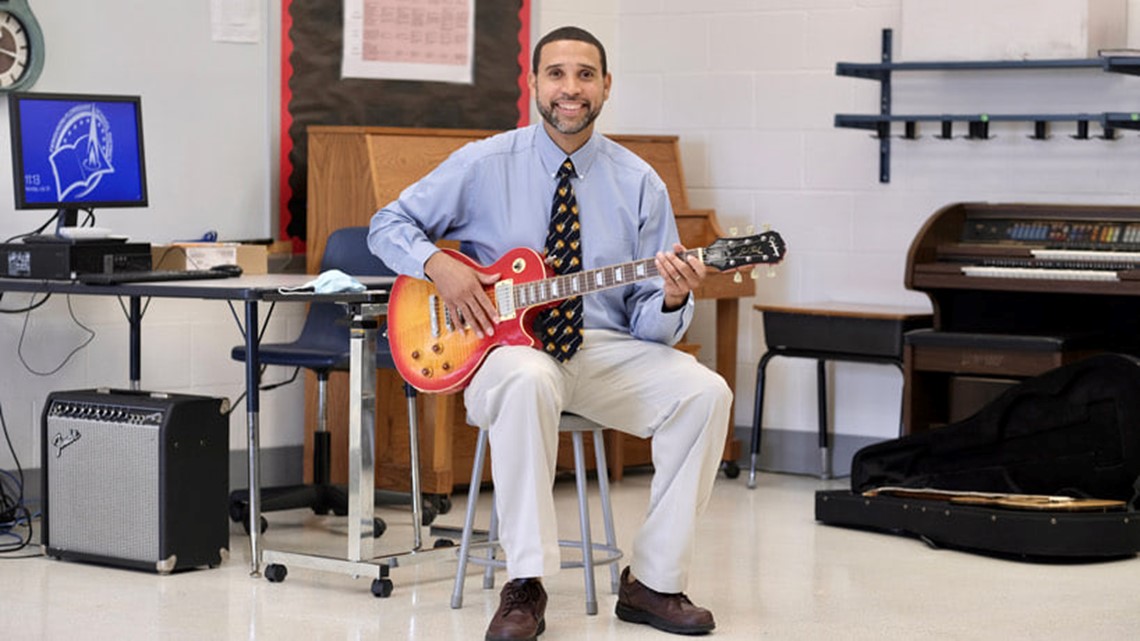 James Young named 2022 Missouri Teacher of the Year
[ad_1]
Young teaches music at the Johnson-Wabash Grade 6 Center in the Ferguson-Florissant School District
MISSOURI, USA – A local educator made his entry into the history books. His name is James Young and was named Missouri Teacher of the Year.
Young is a professor of musical theater, vocal music, and guitar at the Johnson-Wabash Grade 6 Center for Ferguson-Florissant Schools.
A big reason why a committee of peers and education partners across the state chose Young is because of the successful collaborative partnerships he has built, the Department of Elementary and Secondary Education said. Missouri. "He has worked with organizations like St. Louis Dancing Classrooms, St. Louis Classical Guitar, Strings Attached and LIFE Arts Inc. to help provide high quality arts education to his students and the school community.
A member of the board of directors of the local non-profit association Suzuki Harmony STL, Young also teaches group lessons there. In his spare time he serves as a youth leader in his local church. It is important for him to be a role model and to influence students beyond the walls of the classroom.
"As the nation and the world continues to grapple with a pandemic, we must make sure that we support students with the tools necessary to be healthy citizens while uplifting them to be problem solvers of the future, "Young said. "We must rise to the challenge that lies ahead, answer the call to help create classrooms and communities where our students can learn and grow, with a sense of love, acceptance and belonging. "
Young has spent most of his 14-year teaching career in the Ferguson-Florissant neighborhood, which hosts him. Young served in the United States Army prior to teaching, where he joined the United States Army Choir on his tour of South Korea.
Young is the 53rd teacher to receive this award and the first from the Ferguson-Florissant School District. Darrion Cockrell, physical education teacher at Crestwood Elementary School, is Missouri's current teacher of the year.
"Missouri is fortunate to have so many passionate and dedicated educators, and James is certainly one of those shining stars in our state," Education Commissioner Margie Vandeven said. "James's teaching style emphasizes the importance of developing both academic and life skills through arts education, and he strives to educate the whole student. "
[ad_2]