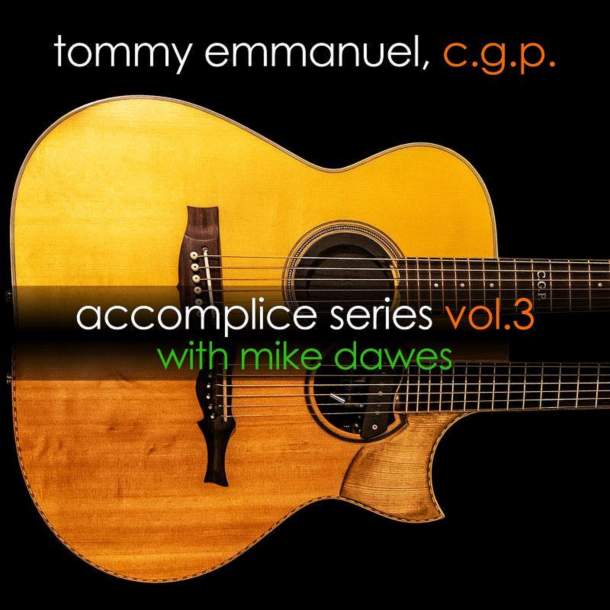 TOMMY EMMANUEL and Mike Dawes roll out an all-instrumental reimagining of "Be My Mistake" by The 1975
Extraordinary Acoustic Guitarist TOMMY EMMANUEL today (September 21) the video for "Be My Mistake" is released. It's a sparkling instrumental arrangement of the band's song The 1975 from their 2018 album A Brief Survey of Online Relationships. See the video here which was premiered yesterday by Pop Matters who wrote: "Guitar luminaries Tommy Emmanuel and Mike Dawes reunite for a gorgeous acoustic rendition of the 1975 hit ballad, 'Be My Mistake'. The arrangement is approached with trademark restraint. For decades Emmanuel has let heart and substance overcome lightning, and Dawes is a future virtuoso cut from the same cloth. Both allow the melancholy of the original song to transcend the complexity of their arrangement, bringing an emotional core to an impressive display of fingerstyle and hard-hitting guitar techniques.
"Be My Mistake" marks the third single and video from EMMANUEL'S COMPLICE SERIES VOL. 3, his five-track EP with British acoustic guitar virtuoso Mike Dawes is out this Friday, September 23 on CGP SOUNDS. Pre-order the EP here.
The video for "Be My Mistake" was filmed, directed and edited by Joshua Britt and Neilson Hubbard for Neighborhoods Apart. It was filmed live at the director's home outside of Nashville, TN, with live audio recorded by Dylan Allredge. TOMMY and Mike's quotes about "Be My Mistake" are below, as is the track listing for the EP. More information on the EP is HERE.
TOMMY and Mike joined forces last year to record and release their rendition of Goyte's 2011 hit "Somebody That I Used To Know" (described by Guitar Player as "spellbinding", 6/24/21) and the followed with their cover of Nirvana's "Smells Like Teen Spirit," of which Guitar World noted, "the acoustic virtuoso duo combine powers to rework the era-defining grunge anthem, with spectacular results" (06/23 /22) TOMMY and Mike then released their arrangement of Sting's gem, "Fields of Gold", which Glide Magazine hailed as "a colorful take where an airy soul elevates this nostalgic yet wistful melody to imaginative double melodies".
TOMMY EMMANUEL and MIKE DAWES:
"Be My Mistake" Quotes
Tom Emmanuel: "Mike caught my eye on this song, and he arranged it all and worked it out like a solo piece. Everything he did was exactly what he needed, so I just had to find spaces to add some ideas and stay away. Hope I've embellished enough to create some beauty. Recording with our engineer, Marc DeSisto in Los Angeles, was a happy and creative experience that recording should be , and we found our mojo in our different guitars and styles and put them together and let them fit together!Hope you all enjoy the music.
Mike Dawes"'Be My Mistake' is probably my favorite track on the record. This cover of 'The 1975' was the only new arrangement we didn't record live together in the studio. Instead, like Tommy had never heard before, I played my rhythm guitar part in one take while he listened. He then listened to the reading to better recognize the structure. Then he sat down and just nailed it. This captured moment is a testament to Tommy as the greatest player. Every touch and every tricky phrase sits with such an iconic character. Note his incredible mandolin impression in the second half. A great way to end a special record that has been a privilege to create.
TOMMY and special guest Mike, who have toured together in the past, including last January's run, will do so again in the US beginning in December 2022. Dates follow below and most shows are live. sale now.
Complete track listing for Accomplice EP #3:
1. Smells Like Teen Spirit (Nirvana cover)
2. Slow Dancing In a Burning Room (John Mayer cover)
3. Fields of Gold (Sting cover)
4. Someone I Used To Know (Gotye cover)
5. Be My Mistake (1975 cover)
TOUR DATES
Dec 6 TUE – Boise, ID @ Egyptian Theater
7-Dec WED–Salem, OR @ Elsinore Theater
9-Dec FRI–Bend, OR @ Tower Theater
10-Dec SAT–Grants Pass, OR @ Rogue Theater
December 11 SUN – Chico, CA @ Laxson Auditorium
DEC 13 TUE – Santa Cruz, CA @ Rio Theater
December 14 WED – San Juan Capistrano, CA @ Coach House
Dec. 15 THU – San Juan Capistrano, CA @ Coach House
16-Dec FRI–Malibu, CA @ Smothers Theater